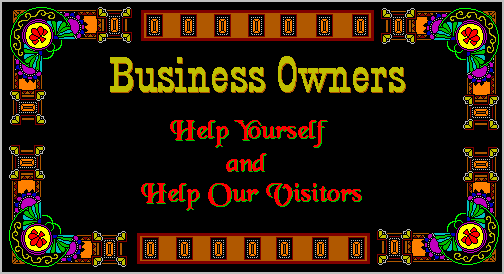 Let CyberHikes Make Your Presence Known

We are in the first page of most major search engines for California Hiking


| | | | |
| --- | --- | --- | --- |
| Search Engine | Position | Search Engine | Position |
| Infoseek | #8 | AOL NetFind | #8 |
| Excite | #8 | Lycos | #2 |
| Web Crawler | #8 | Alta Vista | #6 |
| | |
| --- | --- |
| Make your place of business known to our community of CyberHikers. Every park featured in Cyberhikes contains a Directory of Services listing. It was originally started to provided our visitors with information on park-provided camping, and other services such as places to eat and purchase supplies. CyberHikes has experienced phenomenal growth since then. In February of 1997 we had 291 visitors. One year later, we have had over 7000 visitors and our visitor rate increases every day. In response to many requests, we have decided to open our Directory of Services to all quality businesses in each area. | |
Here is What Your Business Gets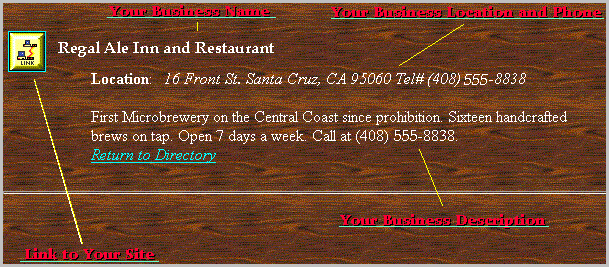 | | |
| --- | --- |
| You get to pick the park directory that is closest to your business. You chose which service category best fits your business and you create the text that will best describe it to our visitors. CyberHikers are viewing the Directory of Services because they want to know where to find the services they need. Make sure they know that you exist when they visit your area! Most Internet advertising is done with banners that are either ignored or actually annoy the visitor. Your listing in the Directory of Services is something that will be perceived as a public service. | |
What Does it Cost?
This is the best part because the cost is so low!
| | |
| --- | --- |
| Per Month | Per Year |
| $6.00 | $60.00 |
Please don't let this opportunity slip by. Listings in the Directory will appear in the same order as the listing request is received. If you are interested, here is how to lock in your position. Just copy the form below and click on the mailto link above it. Paste the form into the eMail dialog box, fill in the information about your business and send it to us. This could be the best advertising dollar you ever spent.

Please eMail us at cyberguide@cyberhikes.com
---
Yes, I am interested in listing my business - Here is the information.

My Name:

My eMail Address:

Business Name:

Business Web Site URL if link desired:

Business Address:

Business Description (100 words or less):

Catagory-(Lodging, Restaurant, Store, or Attraction)
---

Werner Hager at cyberguide@cyberhikes.com
Last updated February 10, 1998.
Copyright 1996, 1997, 1998 by Werner W. Hager and Micromoms. All rights reserved.