Bumpass Hell - Land of Colors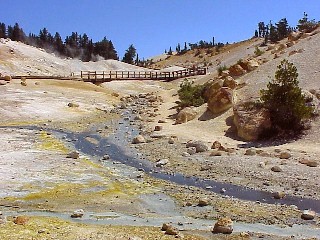 Trail Thoughts and Musings
The trail reaches the bottom of the basin in which Bumpass Hell lies. It is a barren but colorful place. Only specialized plants such as the Bog Kalmia and pink heather can survive. Look for yellow and yellow-orange deposits around the area. The bright, pure yellow deposits are pure sulfur while the yellow-orange are varieties of sulfates. Do not stray from the boardwalks that have been provide. Serious injuries occur every year to visitors who stray off the trails.







---
Werner Hager at cyberguide@cyberhikes.com
Last updated December 12, 1999.
Copyright 1996, 1997, 1998, 1999 by Werner W. Hager and Micromoms. All rights reserved.