More El Niņo Damage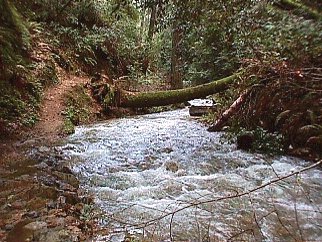 Trail Thoughts and Musings
The trail follows close along side the creek and this is where it becomes most vulnerable during the heavy rains that occur in winter. Here the creek has taken over most of the bed and at one time must have occupied the entire trail. The receding waters have allowed for a dry passage if care is taken.

---
Werner Hager at cyberguide@cyberhikes.com
Last updated March 16, 1998.
Copyright 1996 by Werner W. Hager and Micromoms. All rights reserved.